Okikiko.com – When you are decorating your new home or remodeling your existing home, don't forget to consider tropical bathroom furniture! This can add a lot of charm to any bathroom. A tropical theme can be very elegant and sophisticated or it can be fun and colorful. Either way, this theme is an easy way to add a lot of character to your bathroom. With all the available resources today, finding tropical bathroom furniture should be a breeze.
The Charm Of a Tropical Bathroom
Tropical bathrooms offer a warm, spa-like atmosphere. This theme generally includes a few elements that remind you of a tropical rain forest or some other sort of exotic inspiration. For example, a tropical shower curtain may feature a palm tree with flowers or butterflies. In addition to the shower curtain, you can also include tropical-inspired towels and accessories such as soap dispensers. If you have a wooden ceiling, adding some bamboo accents or a palm tree that faces the shower will also be very charming.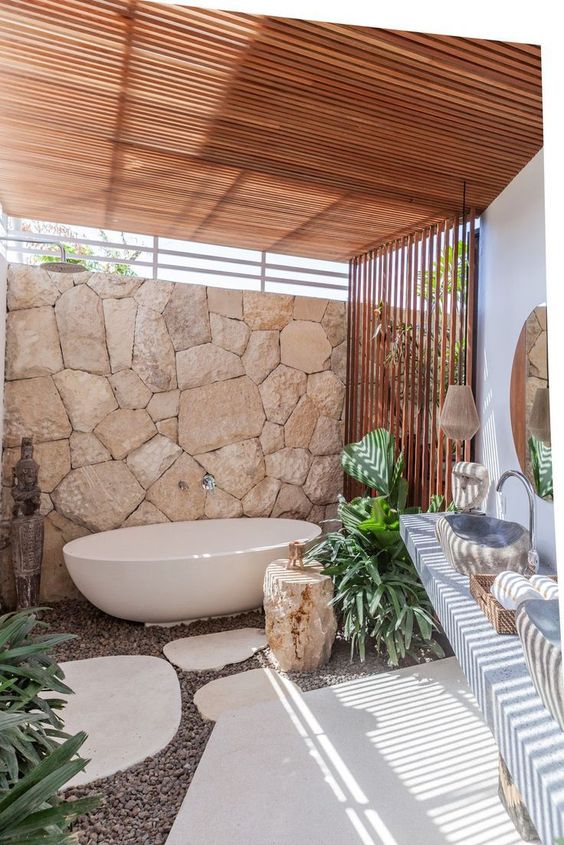 Some people may feel uncomfortable decorating their bathroom with a tropical theme, but it doesn't have to be. If you have a white or beige colored shower curtain and some simple items, you can create a beautiful tropical bathroom. You can purchase inexpensive items at a local craft store for just these purposes. You will want to find tropical-themed toiletries and other shower supplies, especially if your bathroom design project is a do-it-yourself project. In fact, it is even possible to find some great "do-it-yourself" tropical bathroom furniture online.
Ways To Make The Bathroom More Tropical
One way to make your bathroom more tropical is to incorporate some tropical plants in your decor. Although these plants don't exactly match the image of a tropical climate, they are a perfect fit. Most people associate a tropical environment with trees and the beach, which can certainly apply to your bathroom as well. A few standard plants such as orchids, palms, and ferns along with some low maintenance plants like bamboo will create a tropicalized atmosphere in any bathroom.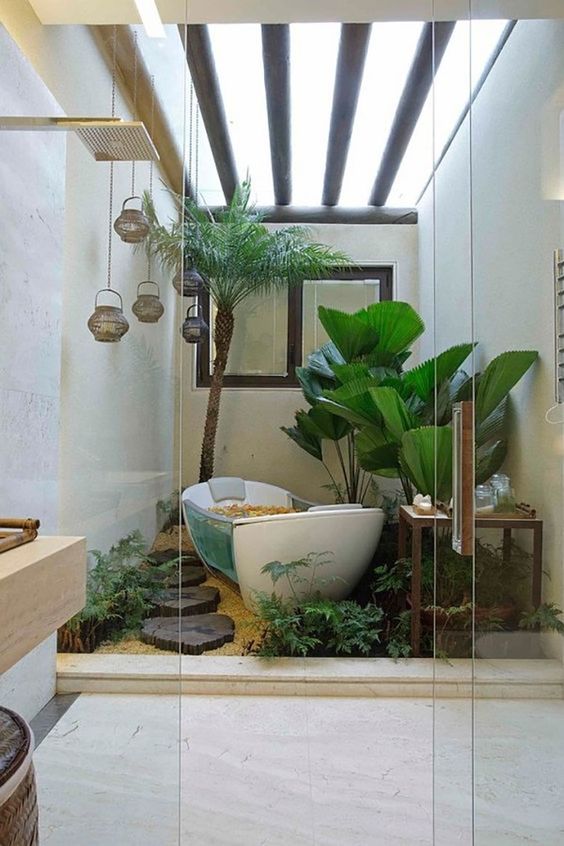 When choosing tropical bathroom decor, be sure to pick colors that are unique and representative of the island atmosphere. Bright, vivid colors such as orange, green, red, yellow and peach will all work well, but it is also important to choose paint colors that aren't too saturated. It is best to use light colors to reflect the light from the sun, so use your imagination when choosing these colors. Some ideas include using yellow, orange, green, red and blue prints to create a tropical look.
Bathroom Mat Color Selection
When choosing the color of your bath mat, be sure it complements your walls and shower curtain. You may also want to use towels with a tropical pattern such as palm trees, fish or seashells. You can easily accomplish this by mixing up plain colors with animal print patterns. For example, you could purchase towels that are plaid with swirls and circles in them. Alternatively, you can purchase solid colors that have swirls in them.
When choosing tropical bathroom decor for your bathroom, you may also want to use potted plants on your walls. This will create a natural look and give your room a tropical flair. If you live in an area where the weather tends to get really cold for a period of time, consider hanging a couple of small live orchid plants from your shower curtain's brackets. A nice idea is to use a small goldfish sculpture to line the bottom of your tub's edge.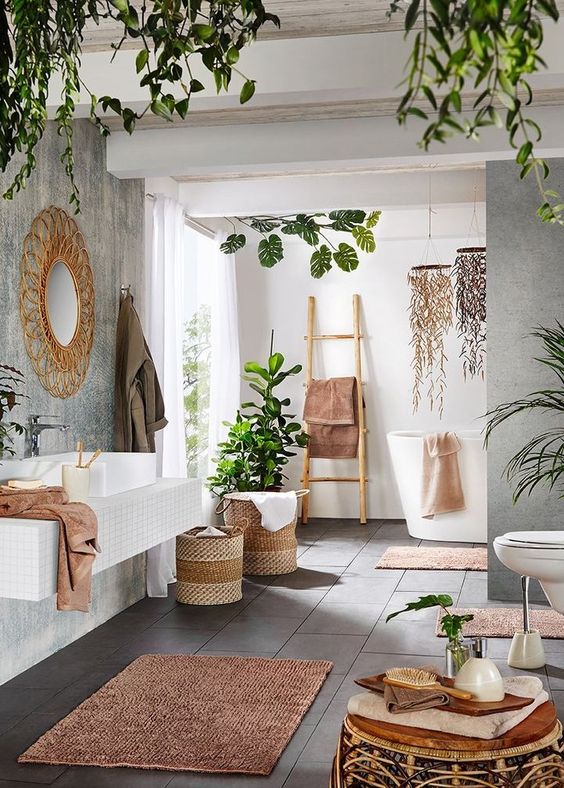 Another way to create a tropical bathroom setting is to include a few potted plants in your design. You can find tropical leaf wallpaper at most home improvement centers, as well as natural plants that are painted with bright tropical colors. Potted plants will look great even if you don't plan to use them for decoration, because they are so easy to maintain. Just add a little water and you're ready to use!