Okikiko.com – There's a certain appeal that comes with vintage design ideas. They can make your kitchen look warm and inviting, as well as add a bit of character to your space.
Bringing a Rustic Touch Perfects Vintage Kitchen Ideas
Adding natural wood elements can help create a vintage feel in your kitchen. Terra-cotta tiles are a good choice, as they bring a rustic touch that can enhance other vintage kitchen ideas. Beadboard cabinet doors are a timeless classic that look great in a wide range of kitchen styles. They come in a variety of widths and materials and can be used to cover existing cabinet carcasses or add a touch of detail to new cabinets. These doors work well with stone countertops and coordinating hardware that has a furniture feel, like classic cup pulls in oil-rubbed bronze.
If you're looking for a more rustic feel, beadboard can also be applied to walls or the main carcass of the cabinets. In this room, beadboard is paired with white paneled cabinetry to create an inviting Mediterranean-style kitchen. A tufted white sofa sits near the wood-burning stove, while a brown china hutch rests in the corner. Beadboard is a great option for kitchens with a farmhouse style because it adds texture and visual interest to the space. It can be painted in a bright blue or yellow to add more color to the kitchen, or it can be kept simple with a clean white finish.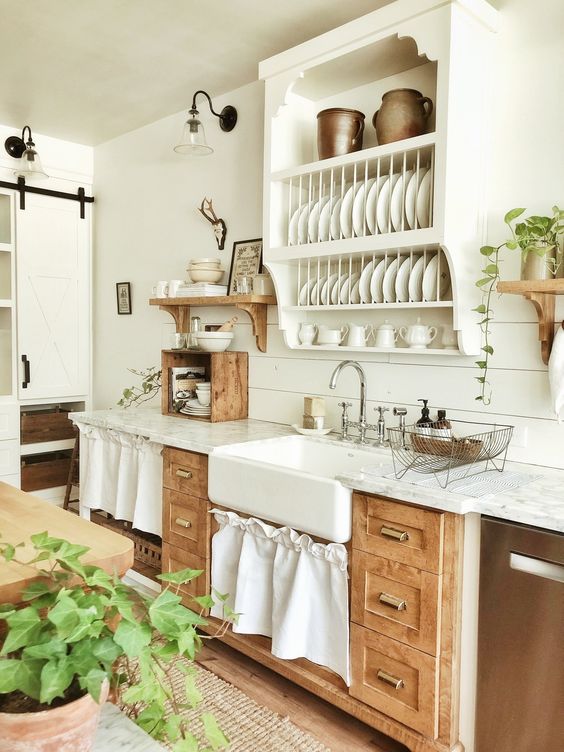 Vintage kitchens can be full of charm and character. A round table in a vintage style is a great way to add a touch of nostalgia to your home. You can also include a variety of other items to complete the look, such as crates, rustic utensils, and copper cookware. These accessories can be stored in cabinets with glass-front doors or on open shelving to show off their beauty. Color can also play a large role in vintage kitchen design. The use of blue can add a bright and elegant touch to your kitchen. It is also a classic colour that can complement a variety of other colours.
Create a Vintage Kitchen Using Authentic Elements from the Time Period
When creating a vintage kitchen, it is important to use authentic elements from the time period. These items can give your space a more authentic feel and help you create a one-of-a-kind space that will be sure to turn heads. Vintage furniture can be found at local thrift stores or online auction sites. Bring floral patterns into the kitchen by using curtains as a way to accentuate your windows. Curtains with floral designs will infuse your home with a sense of organic beauty, and they will look great with any type of interior design.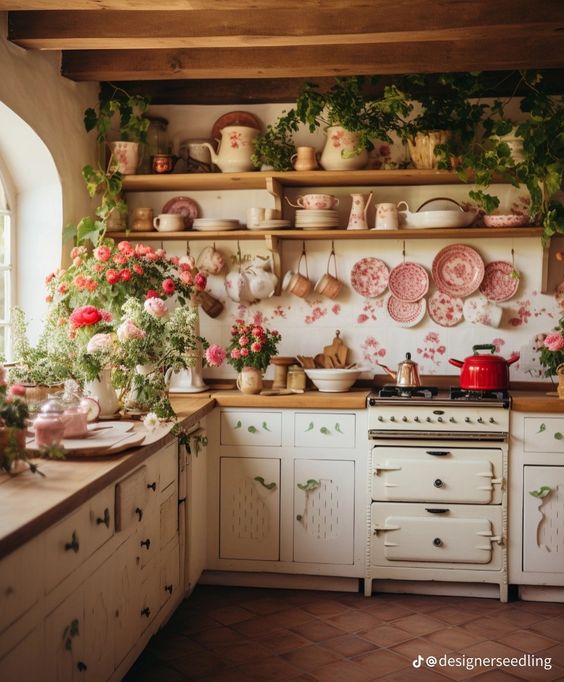 This kitchen isn't sleek or new, but it has a cute vintage style that makes the space feel fresh and quaint. The way the patterned curtains accent shabby lower cabinets is an example of how matching colors and embracing a little bit of chaos can help a room look sexy and fresh. While pantry ideas went out of style after the advent of the modern fridge/freezer, they're making a comeback now that homeowners have more spacious kitchens. Adding a pushed-back pantry to your kitchen can help create a cozy vintage vibe, and it's also a good place to hide extra storage items like vintage tins and baskets. You can find pantry ideas online to suit your specific needs and preferences.
The Best Way to Bring an Old Fashioned Touch to Your Kitchen
A wallpaper in vintage style is a great way to bring a touch of old-fashioned flair to your kitchen. You can choose a floral pattern that matches your other kitchen decor or a neutral color to create a more subtle look. A sage green or dusty champagne color works well for vintage kitchen walls and cabinets. You can also incorporate a variety of vintage items, such as rustic utensils, glassware, and antique tablecloths, into your kitchen. These can be displayed on open shelving or in old crates.
A vintage kitchen can be a beautiful addition to your home, but it can also be a fun way to express your style and personality. To get the most out of your vintage kitchen, it's important to be creative and make sure to add your personal touches. The result will be a beautiful and timeless space that you will love for years to come. Enjoy! If you have and want to send articles to okikiko, you can visit this page!