Okikiko.com – Adding pink bathroom decor to your bathroom can be a great way to create a cozy, feminine space. Whether you want to use pink bathroom accessories or pink bathroom flooring, there are plenty of options to choose from. Here are some of the top ideas.
Adding a Touch of Pink to the Bathroom Walls
Adding a touch of pink to your bathroom walls can make it feel brighter and calmer. It is a versatile color that works with almost any design. If you are going to choose pink, make sure it is a shade that will complement the rest of your home's decor. The pink color can be combined with white, gray, and other neutral colors. It also looks good with turquoise. The two colors can create a vintage look, but they also have a modern sensibility. Choosing the right color combination is important for making a bathroom look beautiful.
If you want to add a little bit of drama to your pink wall color combination, consider using a contrasting pink lampshade. Alternatively, painting the frames on your bathroom mirrors will give you a fresh new look. Choosing pink bathroom floors can be a fun way to spruce up your bathroom. These tiles can create a playful sea of color or a warm, calming backdrop for any room.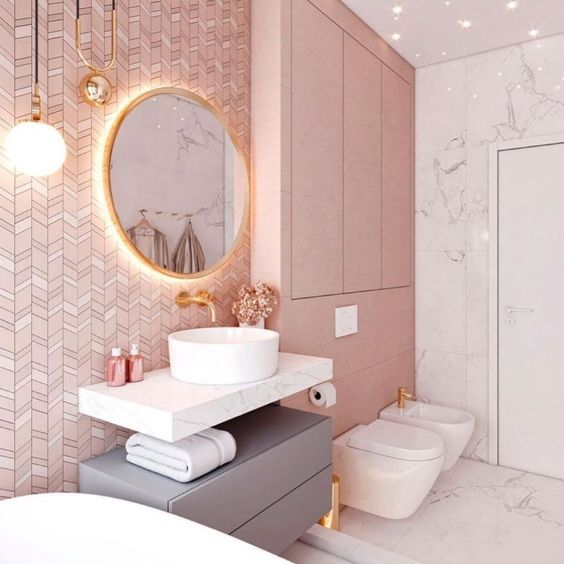 Pink has become a popular shade across interiors. It has a subtle touch of elegance, perfect for luxe fixtures. Its soft palette works with a range of shades, from pale to deep. Its soft hues look especially calming paired with darker shades of black. It also creates a textural contrast, giving your room a dazzling appearance.
Choosing Pink Tiles in Various Shapes
Pink tile is available in a variety of shapes and finishes. For example, you can get a mosaic design with a chevron shape. You can lay this patterned tile vertically or horizontally. You can also use a mermaid ripple design, which uses a shared palette of pinks to create a graphic patchwork effect.
Vanity area in pink bathroom decor is often accompanied by a pink bathtub and other colorful accessories. These accessories can tie together a pink bathroom and make it look beautiful. The color pink is often preferred in children's bathrooms, but can also be used in more modern styles. It can be paired with light tones, such as white and gray, to create a soft luxurious effect. You can add a fun and playful edge to a more traditional pink scheme with terrazzo.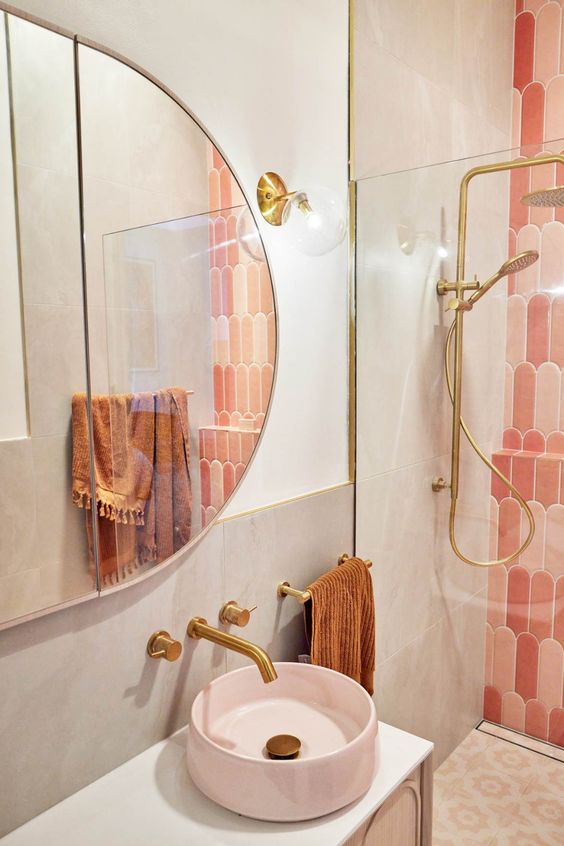 One popular trend right now is terrazzo's confetti pattern. This tile combines pale pink and white colors to give a statement floor. In addition to adding a touch of style, these tiles are great for making a space feel light and airy. It is possible to add a splash of pink to your bathroom with a colorful shower curtain or rug. Adding pink bathroom accessories to your tub or shower is an excellent way to add a splash of feminine flair to your bathroom. The latest bathroom accessories come in a variety of colors and styles, and can be used to enhance and organize your space.
Best Pink Bathroom Accessories
The best pink bathroom accessories are the ones that combine function and fashion. The aforementioned pink tub is accented by a fluffy pink mat, and a stylish heated towel rail. White tiled floors and walls provide an easy backdrop for colorful accents. You could also try installing a pink patterned stool, or a faux bois vanity. There are hundreds of other pink bathroom accessories to choose from, from soap dispensers to toothbrush holders. These are great for storing your daily essentials and providing a little pizazz to your space.
Adding pink bathroom decor can be a great way to create a fun and fresh feel. It doesn't have to be loud or flashy. Try experimenting with various shades to create an elegant look. You can use pink to create a whimsical tropical bathroom, or a traditional design. A light pink color works well with neutral colors, such as white or gray. It also looks good with blues and stronger greens.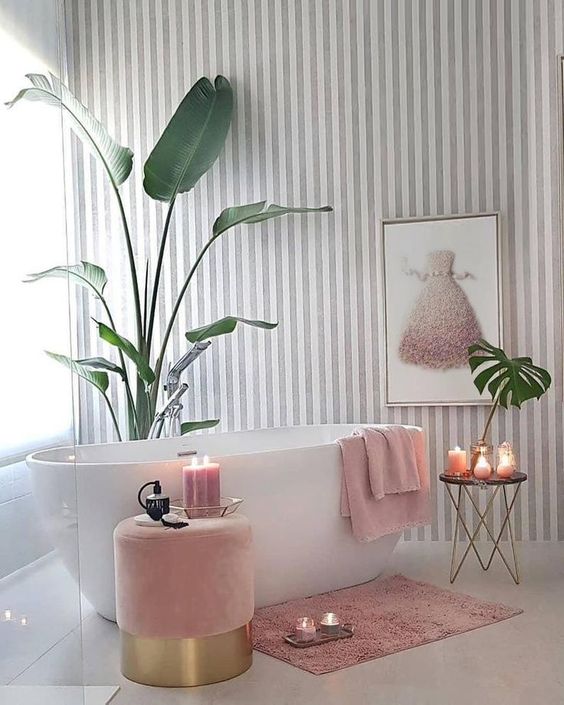 A pink and white color scheme is a chic look, and works well with marble. A pink tile backsplash can add a pop of color. You can choose an artistic tile pattern or a more streamlined design. To complement your pink bathroom tile, you can use white subway tiles. The white marble adds depth to the look.