Hello and good morning guys, welcome back to my website. This day, I want to share a topic about the scariest and horror anime that you should watch. So, are you a fan of scary movies like The Ring, The Conjuring, Insidious, or even Jaws? Well, if you enjoying watching all of those movies, I think you will also enjoy watching all of these scary anime on my list below. Because all of these anime I will tell you below will also give you a goose bump. So, are you ready to be scared? Remember, before look at this horror anime list and finally decide to watch it, make sure you close all the windows and lock all doors on your house and don't forget to look behind you, under your bed, inside your cupboard but never look above because they hate when they get caught👻.
Most Horror Anime List EVER!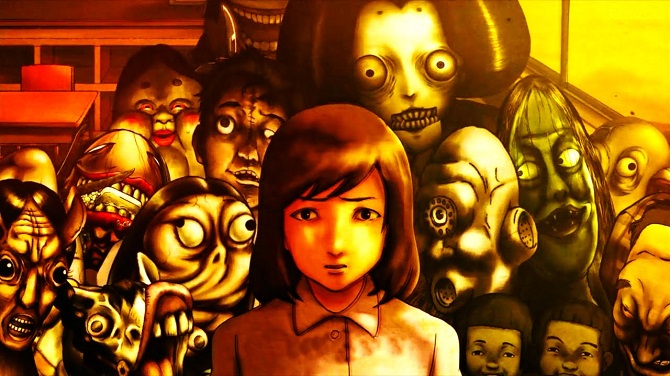 Do you like to watch a horror anime? Do you know what anime that is good enough to fulfill my lust of watching a horror anime? Well, if you are also a lover of horror anime, I bet, answering my question isn't a big deal for you, right? However, if you are only pretending to be a lover of horror anime, I bet you will just wondering without answering.
Well, without wasting any more time, I will share you the top horror anime that worth to watch to fill your spare time.
Horror Anime List:
Yami Shibai

Lack of times to watch horror anime? Don't worry because this anime won't take your time too much. This anime only take a few minutes but with a horrific plot, this anime is deserved to be placed in number 1 and nominated as top horror anime movie.

Ghost At School

A combination between comedy and horror make a perfect combination in this anime. This anime focused in ghost appearance and the story about the sealing process.

Corpse Party

This anime more focused in a thrilling atmosphere that very attached in this anime. A lot of gore content served on this anime. That's why you need to be prepared to watch this anime.

Jigoku Shojo

Do you hate someone? Do you want to kill someone without fouled your hand? All you need to do is calling her. Known as Jigoku Shojo or Hell girl, this girl will kill all of your enemies with your soul as a payment. She will drag your enemies and your soul together to the deepest part of hell.

Boogiepop Phantom

These anime tell a story about a bunch kids that become a witness of the serial killer in Japan. They witnessing if the serial killer is a boogyman, the serial killer myth from the western country.
Well, thanks for coming to my website and read my article today about the best horror anime list. If you think my article today is worth to share, please share my article today with the other people. Don't forget to leave a comment and share my article today with the other OTAKU. I hope you won't get bored to read my article today. See you soon in my next article and have a nice day dude.